Of the 39 countries that started the competition, only 26 have made it to the Eurovision final, but who's going to win? 
The UK, of course!
We are the UK's number 1 casino review site, so obviously (deluded or not) we're backing the UK as our favourite to win the Eurovision final.
The UK always steps up with amazing songs, and it's only jealousy that stops us from winning. I mean, blatant robbery when Gina G's "Ooh Ahh Just a Little Bit" didn't win – proper belter that one.
But we won't be robbed this year, oh no. So, starting with our favourite, let's have a look at who we think will win this year, followed by the runner-ups.
(Disclaimer: we can't predict the future, nor do we have the inside track on anything Eurovision related, so this article is the opinion of the author and for informational and entertainment purposes only)
Our favourite to win: The UK!
I've told you twice already so it won't come as a surprise to learn that our favourite to win is James Newman with his song, Embers.
James is a talented musician and "Embers" has a current feel to it. It's not as cheesy as some of our previous entries.  He's a prolific songwriter and has written songs for some of the world's biggest singers, e.g., "Lay It On Me" performed by Rudimental ft Ed Sheeran. That's some kudos.
Odds: 200/1 (William Hill) 300/1 (Bet365)
WTF?! Maybe we should remove them from our review site (jk). But still, thanks for having faith in us /s.
Almost every online betting site has Italy as the favourite with their entry, Måneskin's "Zitti e buoni". It's definitely a catchy song (or it would be catchy to me if I could speak in Italian – it has that quality that makes songs catchy).
I have to admit that I do like this song. It has me bopping along for sure. It has a rock melody, but there's also a pop quality to it too. I can see why it's a favourite to win the Eurovision final.
Måneskin actually means "Moonlight" in danish. Seems like an odd choice of name for an Italian band, but it's a homage to one of the members' home country, which is Denmark.
The band came second in Italy's X-Factor (2017), so they shouldn't feel too disappointed when we come first.
They're the odds-on-favourite so they have great odds:
Odds: 9/4 (William Hill), 9/4 (Bet365)
Runners up number 1: France
Oh no! Our historical arch nemesis out to thwart us again with the effortless romantic air that they put into all their music. Barbara Pravi's Voilà is everything you'd expect from France's Eurovision entry: it's strong, poignant and has that effortless style that seems to come naturally to French people.
Barbara Pravi is a singer, songwriter and actress from Paris. She's better known for her songwriting skills, and even wrote a song for Jaden Smith. But we're sure her reputation as a singer will only grow following her entry to the Eurovision final, certainly in France.
Odds: 11/4 (William Hill), 10/3 (Bet365)
Runner up number 2: Malta
Number 2 ?? Bit rude of me, but ya know, this is the Eurovision final and I get precious about it… or, ok, I'll tell the truth: it's a tradition with my friends to make a night of the Eurovision final, and it's my turn to represent the UK. I have to do whatever I can to influence the vote. You never know, one of the judges might read this article.
But in all seriousness, Malta's entry is great and thoroughly deserves its place in the top 3 favourites.
Not going to lie: I like this one. Destiny's, "Je Me Casse" is an instant bopper along for me. Destiny is a real contender here – she's already won the Junior Eurovision Song Contest, back in 2015. And she's only 18, so even if she doesn't win this competition, she has a strong chance at a great future in the music industry.
I understand it too because it's in English. Is it a bit of a trick to get English listeners to like it better? We're well renowned for not listening much to foreign music, whilst many other countries listen to music in a range of different languages.
They've also given it a French name, "Je Me Casse" – maybe to butter the French up too? Who knows. It worked though. I like this song. It's catchy and danceable.
Odds: 5/1 (William Hill), 6/1 (Bet365)
Takeaway
Despite terrible odds and no sane person thinking it will happen, I predict a UK win. But if we don't win, I'm going to go out on a limb and say that Malta will win, possibly France, maybe Italy…or perhaps one of the other 22 countries, who are:
Cyprus with El Diablo
Albania with Karma
Israel with Set Me Free
Belgium with The Wrong Place
Russia with Russian Woman
Portugal with Love Is On My Side
Serbia with Loco Loco
Greece with Last Dance
Switzerland with Tout L'Univers
Iceland with 10 Years
Spain with Voy a Quedarme
Moldova with Sugar
Germany with I Don't Feel Hate
Finland with Dark Side
Bulgaria with Growing Up Is Getting Old
Lituania with Discoteque
Ukraine with Shum
Azerbaijan with Mata Hari
Norway with Fallen Angel
Netherlands with Birth Of A New Age
Sweden with Voices
San Marino with Adrenalina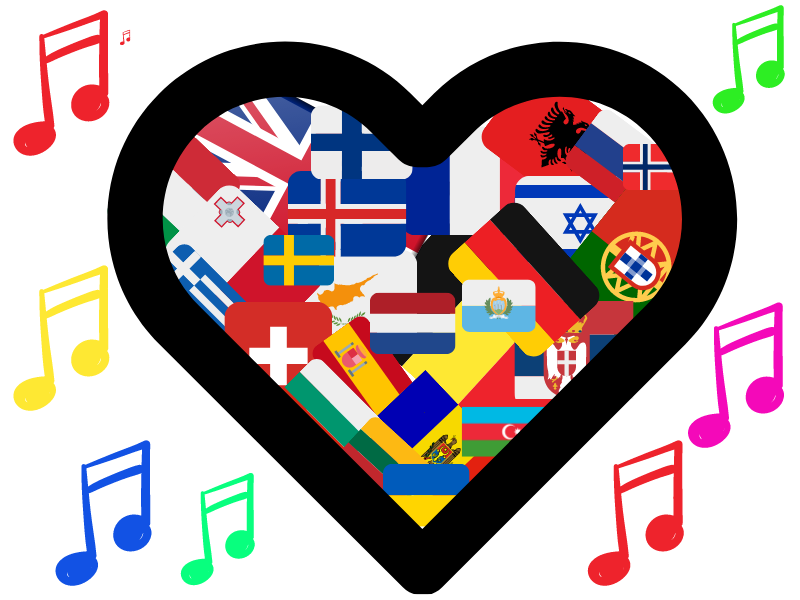 All odds are correct at the time of writing but are subject to change. In fact, depending on when you're reading this, there might not be any odds at all because the competition may have ended. Tell me, who won? Any time travellers come and see me now and tell me. Bummer, no one turned up! Maybe time travellers don't read articles about old Eurovision song contests? Or maybe I forgot to tell them a time and place?