People who have a problem with gambling usually have one thing in common: they feel isolated and beyond help. Fortunately, feelings and facts aren't the same thing. There's plenty of help available for gamblers, no matter how far in you might be. And the high street banks can be part of that help too. Many of them have tools that you can use to help manage your gambling habits.
Something that often helps with compulsive behaviour (whether it's eating too much, drinking too much, or gambling, etc.,) is to remove the temptation. This is where high street banks can help gamblers. They have tools that will help you remove the temptation of gambling by blocking your spending.
Here, we look at various high street banks and what help they're for offering problem gamblers. Making use of these tools can help you get control of your gambling habits.
Check with your bank to see what help they offer, and if they don't offer help, consider changing accounts to one that does.
Remember: the Gambling Commission has banned credit card transactions for all UK-based casinos, including online casinos, so the following information refers to current accounts and debit cards. You shouldn't be able to use your credit cards to gamble anymore.
Let's have a look at some of the services you'll be able to use if you bank with one of the big-name banks.
---

Barclays offers some of the best levels of help for problem gamblers. If you have a debit card with them, you can do the following:
Block payments to specific types of retailers, e.g., online casinos, premium-rate phone lines and websites.
Set spending limits for single transactions, e.g., block transactions over £100.
Freeze your card temporarily
Adjust limits on the amount of cash you can withdraw from a cash machine per day. You can even switch off withdrawals altogether.
Once you activate their gambling block, you can't reactivate gambling transactions for 72-hours.
As well as these debit card services, they also offer help guides about budgeting, saving, debt handling, and money management.
---

With HSBC, you can activate gambling restrictions on your debit cards. This allows you to block payments for gambling purposes.
They do advise that it may not be possible for them to stop all transactions though. That seems reasonable as it's not always clear that a particular transaction is gambling related. E.g., if you buy Lottery tickets in supermarkets, it will appear to be a grocery transaction to your bank, and they won't be able to tell the difference between you buying a pint of milk and you buying a Lotto ticket.
They also explain which type of gambling transactions they will block:
Online and in-store transactions (e.g., if you're at an online or bricks-and-mortar casino)
Contactless payments and Chip & PIN payments
Digital Wallet transactions (e.g., gambling via Apply Pay, Google Pay, Samsung Pay)
Recurring payments (e.g., to The Postcode Lottery)
Pay by Bank app transactions where you transfer money via your banking app.
Since November 2020, HSBC's gambling block lasts for 72-hours. If you downloaded the app before that date, your gambling transactions will only be blocked for 24-hours. You will need to update the app to get a longer block limit.
---

Santander has a dedicated page for problem gambling (as do the other banks mentioned here). However, they don't go into much depth about the type of help they offer gamblers, or how they offer this help.
They simply say that you can use their mobile app to block gambling transactions and then they offer instructions on how you can toggle "Block Gambling Transactions" on or off.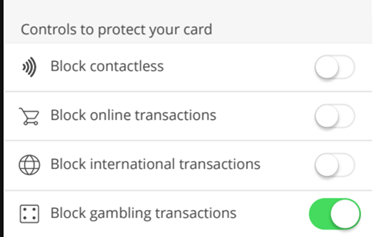 ---

Surprisingly, we found very little help available from Nationwide. If it is available, they haven't made it easy to find.
All we found was a section about their Flexone accounts, which are bank accounts for under-18s. These accounts ARE protected from gambling transactions. They will block both online and offline gambling transactions for people with a Flexone account. These transactions include:
Online casinos and sports betting websites
Gambling with the National Lottery
Making transactions in Bricks-and-Mortars casinos
Making transactions in high street bookmakers
---

NatWest has a good level of support for their customers. As with some of the other banks above, you will need to download the app in order to activate gambling restrictions.
The NatWest gambling block lets you block your card from making gambling transactions. As with Santander, you toggle gambling transactions on/off.
They have a comprehensive list of blockable transactions, including:
Chip & PIN
Contactless
Apple Pay &/or Google Pay
Online & In-App purchases
Gambling subscriptions and regular payments (e.g., National Lottery & The Postcode Lottery)
Once you block gambling transactions, you can't switch them back on for 40-hours.
Again, they advise that they might not be able to block all gambling transactions, and this will be for the same reason as I outlined above for HSBC. In fact, I doubt any bank will be able to stop gambling transactions completely. They probably all mention this fact somewhere in their Ts & Cs, but only HSBC and NatWest have made it clear.
Remember, though, they will be able to block the vast majority of gambling transactions.
---

Lloyds Bank appears to be one of the best of the bunch when it comes to protecting their customers from gambling harm. They even direct you to a free trial to Gamblan – an internet tool that lets you block access to thousands of gambling websites and apps across all your devices.
They also offer the same gambling blocks that most of the other banks do.
Their block lasts 48-hours.
Summary
It's fair to say that many of our banks offer help for people with problem gambling, but some appear to be better at it than others are. Whilst this article isn't a complete list of banks – other high street banks, such as Halifax (which offers the same tools as Lloyds Bank), often have tools too – I hope that you'll find this review helpful and that it will inform your choice when it comes to choosing a suitable bank account.