Evolution Gaming has launched the world's first live casino craps game.
That's the claim from the world's biggest online provider of live casino games.
Evolution Gaming Live Craps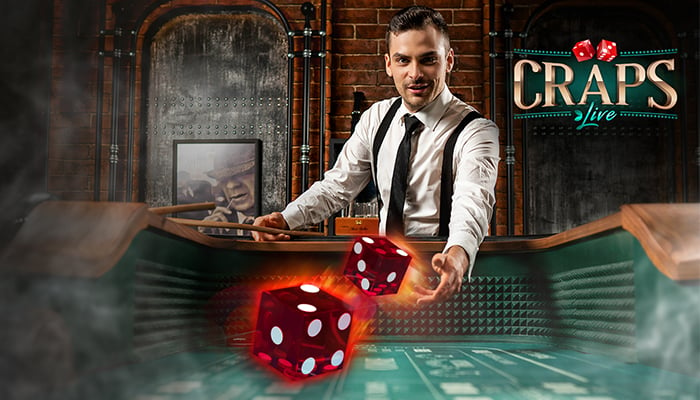 The game was launched in November 2020, and though it's bang up to date in terms of its technology and game features it has stayed true to the street roots of craps by setting the studio in a speakeasy-style background.
The game is based on the classic game but uses all the features and technology that are available in the 21st century to deliver a feature-rich game.
They're also making it easier to understand craps, which is a famously complicated game – the complexity of craps is probably the main reason it has never really taken off online.
The Evolution Take on Craps
This is what Evolution, in the form of Todd Haushalter, Chief Product Officer, say: "Craps completes the Evolution portfolio in terms of offering every game you can find in a land-based casino. Developing the game and capturing the unique excitement of the Craps table, but in an online setting, was a complex project. The team has done a phenomenal job and we now have a fantastic finished product that I know will thrill Craps enthusiasts in the US, Europe and beyond, as well as attracting legions of new fans."
He also spoke about a couple of features that are designed to make the game easier to understand and play in the 21st century.
That's an "Easy mode" and a tutorial that fully explains the game.
Evolution are launching a simulation of craps too: an RNG as they call their non-live games, that allows players to click a button to switch from the simulator to a live version complete with a dice wrangler serving your every need!
Everything You Need to Know About Evolution Craps
Let's have a deeper look at Evolution Craps.
Running the game is a dealer in 1920s/30s costume, against that speakeasy background.
One of the attractions of craps in a casino is that it almost always the noisiest and most social table in the place, we'll have to see if Evolution can really capture that magical craps atmosphere in their game.
Craps is a prediction game: two dice are rolled and players bet on the outcome.
Evolution have updated the game in order to make it easier to play.
First of all, you have the My Numbers feature.
This shows you how much each number on the dice will deliver to you if you win, and which numbers you need to hit to win. It makes choosing your next bet much easier.
Easy Mode is a big thing in this game. Live games are run round the clock with staff. Staff have to be paid and this makes live casino games much more expensive to run than RNGs. The expense for players is usually paid in the form of higher entry-level bets and the lack of a demo mode. The easy mode here isn't quite a demo mode, but the simpler user interface is a great innovation that will introduce you slowly to the complex world of "the bones". You are given much fewer betting options with the more complicated bets discarded and a simplified set of simpler bets remaining.
A tutorial is another good idea with craps. A walkthrough of the game is a great way to understand the way to pick your bets and play an effective strategy. We highly recommend you take the time to run through the whole tutorial before you start playing Evolution Craps for real money.
Statistics are a feature in many live games. Knowing what has happened is a way to keep an eye on your gameplay. However, you should beware of the gambler's fallacy. The gambler's fallacy is a belief that gamblers are said to have and which makes them make bad decisions. Random events are random: a particular number on a dice should show up on average around the same number of times in a long sequence, but numbers are not "due" to arrive just because they haven't shown up in the previous few games – random is random, each throw is a unique stand-alone event.
Not ready for live craps?
We've hinted at the possible dangers of playing live casino games above. Don't worry, we're not trying to scare you off, but it's true that the lack of a demo mode is something you need to bear in mind. The tutorial is a great introduction to the game, but perhaps even better is the First Person Craps game that Evolution has released at the same time as Evolution Live Craps.
This means you can check out the game in a simulation where you won't feel quite the same pressures as in the live environment.
However, when you feel like you're ready to play for real you simply click the Go Live button and you're transported to the real game.
Where Can I Play Evolution Live Craps?
Evolution Games are everywhere. You can find them quickly and easily by visiting Evolution's own website and checking their list of partners, which is what they call the sites that host their games. Or you can browse review sites like ours and others.
The truth is that Evolution Gaming are the biggest live casino game providers in the world right now. Only NetEnt are up there to rival them. Most UK online live casinos offer Evolution Gaming games, and the fact that Evolution Craps is a new release means that the game is likely to be heavily promoted right now.
New release games are best played when they first hit the scene if you want to find any bonuses or promotions linked to the game. Live casino promotions are relatively rare, but this exciting new frontier for live casino games means that now is a great time to look for them.
Only play Evolution Live Craps at safe, licensed sites with a UK Gambling Commission Licence and only play with money you can afford to lose.
Looking for your next favourite online casino? Check out new online UK casinos here!