Caribbean Stud Poker is one of the most popular games in the live casino scene. And why not? There's nothing that gets our fantasy muscles working better than the idea of sun, surf, and glamourous beach resorts.
Most casual card players are used to poker as a multi-handed game with players sitting around a table – virtually or face to face – and betting against each other. But live casinos don't work like that. Almost all poker variants offered by online casino sites are dealer-led games, in which a player or players play against a dealer and collect a prize for winning rather than a full pot of everyone else's cash.
These games follow the basic principles of poker, and knowing the hierarchy of hands is a  great skill to have, but they're a little bit different.
This is our guide to one of the most popular of these games, Caribbean Stud Poker.
The Rules of Caribbean Stud Poker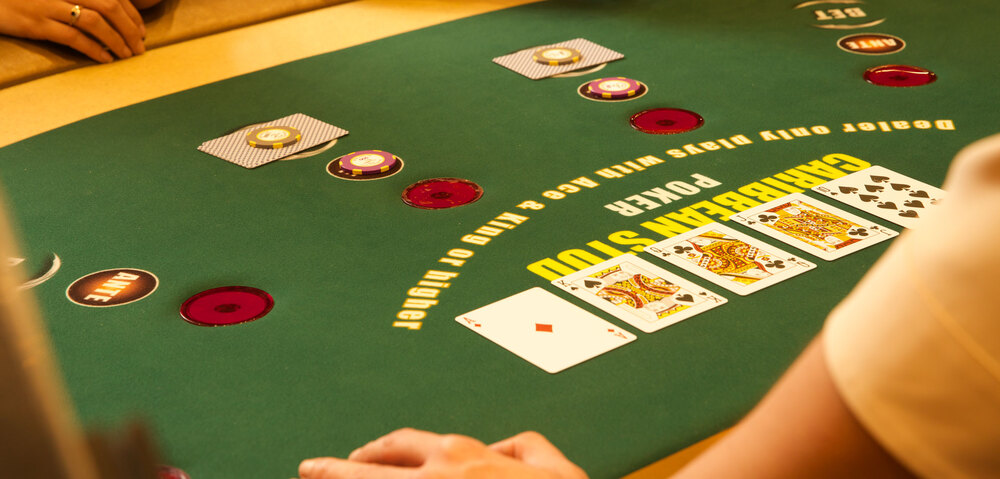 Players first put up their ante and are usually given the option of making a side bet for a progressive prize.
The dealer hands out hands of cards. Each player gets five cards face down, the dealer gets five cards with one face up.
Players then look at their hands and start to think what to do!
You can either fold your hand or start to bet. Folding ends the round for you and you lose everything you've bet up to that point.
A raise must be twice the size of the ante.
The dealer then reveals his full hand.
The dealer's hand is then rated: an ace and a king is the lowest hand that counts for the dealer.
If the dealer's hand beats the player's hand after qualifying the dealer wins and the ante and the raise are lost. If the dealer qualifies but loses to the player then the player wins even money on the ante and a pay-tabled amount for the raise bet.
If the dealer does not qualify the player wins even money on the ante, and the raise bet is pushed.
A tie results in both bets being pushed.
Progressive bets are paid out to a pay table that is based on the value of the player's hand in a classic poker sequence.
Simple!
Here's an example of a pay table:
Royal flush pays 100 to 1; Straight flush pays 50 to 1; Four of a kind pays 20 to 1; full house pays 7 to 1; a flush pays 5 to 1; a straight pays 4 to 1; a three of a kind pays 3 to 1; two pairs pay 2 to 1; all other winning hands pay evens.
What value is Caribbean Stud Poker to Players?
The house edge of dealer poker games is complex.
Each hand has a different return to player. A standard set of calculations produces a house edge of a little over 5% for the game as a whole, but some betting experts say that the game offers better returns than this when the risks of raising and the mechanism of folding are factored in.
How to Play Caribbean Stud Poker to Win
The strategy is also quite complex.
We've found some decent advice though, which boils down to raising with anything over a pair and always folding with a hand that doesn't beat the dealer's qualifying hand.
Then you need to factor in what the dealer's face-up card is.
This gives us this strategy.
Follow the first two rules.
If you have an ace/king hand then:
Raise when the dealer's up card is a 2 to queen, and you have a matching card.
Raise when you have a queen or a jack and the dealer shows an ace or king.
Raise if you have a queen, the dealer's card is lower than your fourth highest card, and the up card is not matched in your hand.
Progressive Bets in Caribbean Stud Poker
The side bet is awarded according to a pay-table.
This usually awards a jackpot for the top paying poker hand, a royal flush, with 10% of the prize fund going to players who win a straight flush.
The house edge on progressive pots is usually around 25% or higher. This is not a good figure!
Playing Caribbean Stud Poker at Live Casino Websites
You need to understand the actual game you are playing. We have given you a general guide to the rules of this game, but there are variants and you need to know which one you are playing. This means reading the rules of the game you are actually playing.
Live casino games do not work in the same way as simulations. The game needs staff to run so it cannot be easily offered in a free-play demo round. This means it's a good idea to look for computer simulations to have a go at before you even head to the tables; that way you'll be scratching your head and thinking what comes next when you can simply hit a pause button rather than being under time pressure.
Live games have introduced a new element into the online casino world too, a social one. Gambling can be addictive and you can get into trouble with online gambling. You don't have to look too hard at a live casino site to see that sex and attractive staff are a selling point for casino sites. Don't let your decision making be guided by any perception you have of the person who is dealing the cards. Always treat the staff at online casino sites with the utmost of respect, but don't be drawn into thinking too much about them when you're deciding whether to bet or not.
Always play Caribbean Stud Poker safely. Frist and foremost that means playing at sites that are licensed by the UK Gambling Commission and following simple safe gambling protocols as well as good online safety procedures.
Hopefully, this guide is a good start to understanding this interesting and potentially rewarding game that could really enrich your online live casino experience.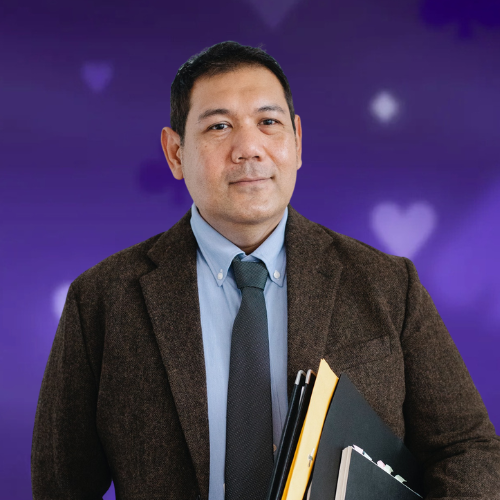 Gordon Dyke
Poker & Betting Expert